Apparently this is why people freaked out over Alonso's long runs in testing day 3 evening (the usual caveats of sandbagging apply):
You can see that, unlike the Ferrari or Merc and the typical higher lap times due to tire wear over a long run, Alonso's Aston exhibited the elusive negative tire wear.
Negative or not, his times were also competitive with the Red Bull, with the caveat that Alonso's long run came in the very last session with perhaps ideal conditions (evening track temps, the most rubbered in track, done while others were doing fast laps with maybe softer tires):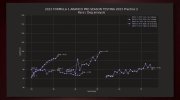 Images by BrrrakeF1 (former Red Bull strategist) taken from Autosport's
F1 2023 Testing Analysis - A Race Engineer Explains
.
Peter Windsor's
2023 F1 Bahrain GP Friday
has some nice long run data:
Alonso's still showing pace to rival Ferrari and maybe trouble a Red Bull. Lewis seems way off.