Debut Trailer
Release Date Trailer
Gameplay stream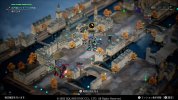 From SE:
An All-New Simulation RPG from Square Enix
Deep, Strategic Real-Time Battles
Realistic "Diorama"-Style Battle Scenes – The natural environment and cultures of the island of DioField combine with unique "diorama"-style textures to create a clear and beautiful visual aesthetic
Sound Composers: Ramin Djawadi, Brandon Campbell (Notable Works: Game of Thrones)
You can read more about this game at the following link
Publisher and developer Square Enix, and developer Lancarse have announced real-time strategy RPG The DioField Chronicle for PlayStation 5, Xbox Series, PlayStation 4, Xbox One, Switch, and PC (Steam).

www.gematsu.com
According to the Microsoft Store, this game will feature Ray Tracing and 60+ Frames Pers Second. I pre-ordered the game today and the current download size is 21.73GB but I expect that size to change by the launch date.
I'm not sure what engine it is using.